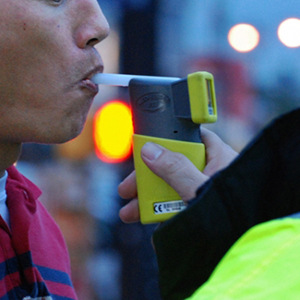 After 2:00 AM, when nothing good ever happens unless you're already home, two San Diego DUI police officers were dispatched to a call of a single vehicle traffic collision on SR-94 westbound transition to SR-15 southbound.
The driver claimed he was hit by a vehicle traveling next to him, pushing himself into the roadway edge concrete wall.  However, no evidence was located to substantiate the claim of a hit and run.  He was fortunate enough to come out without any injuries for himself or towards anyone else.  There would be no felony DUI.
The alleged DUI driver was standing next to his car while the officers arrived upon the scene.  The officers noticed his bloodshot eyes, an odor of an alcoholic beverage emitting from his breath/person, and that he had admitted to both driving and having a "minimal" amount to drink.  Due to the suspicion of this as a DUI related incident, a series of gymnastics and field sobriety tests took place.
His first field sobriety test was a horizontal gaze nystagmus, where the accused driver had a noticeable lack of smooth pursuit in both eyes. He also displayed a lack of convergence, and swayed from center front to back, and left to right.  Next was a one leg stand test, where he continuously swayed from center front to back, and left to right.  A Romberg test then illustrated the drivers inability to be steady on his feet, while he swayed from center front to back, and left to right, once again.  Finally, a walk and turn test displayed the accused drivers inability to connect heel toe contact.  Due to the conclusion of the tests, the officers advised him to take a breath test, which he consented to.  The result was a BAC of .16/.17% after a .18%/.18% PAS.
It is always dangerous to drive under the influence of alcohol, and a DUI accident occurring will typically make the punishment more significant.  Nevertheless, the alleged DUI driver was able to result in minimal punishments.  Fortunately for this attorney's Client, there was no jail time, no vehicle impound, no probation officer, no house arrest, no six or nine month Alcohol Program, no expensive SCRAM alcohol-free bracelet.  He paid the minimum fine, did only three days of public service program and was ordered to have an Ignition Interlock Device on a vehicle for only 6 months.  With the results, the alleged DUI driver will still be able to pursue his dream in the medical field.